CARFAX Named One of Canada's Most Admired Corporate Cultures™ in 2020
NOV 26, 2020 – LONDON, ON – CARFAX, a global leader in vehicle history and valuation, has been named one of Canada's Most Admired Corporate Cultures™ for 2020. The annual program which is now in its 17th year is presented by Waterstone Human Capital, a leading cultural talent management firm. The award recognizes best-in-class Canadian organizations for having exceptional cultures that drive performance and sustain a competitive advantage.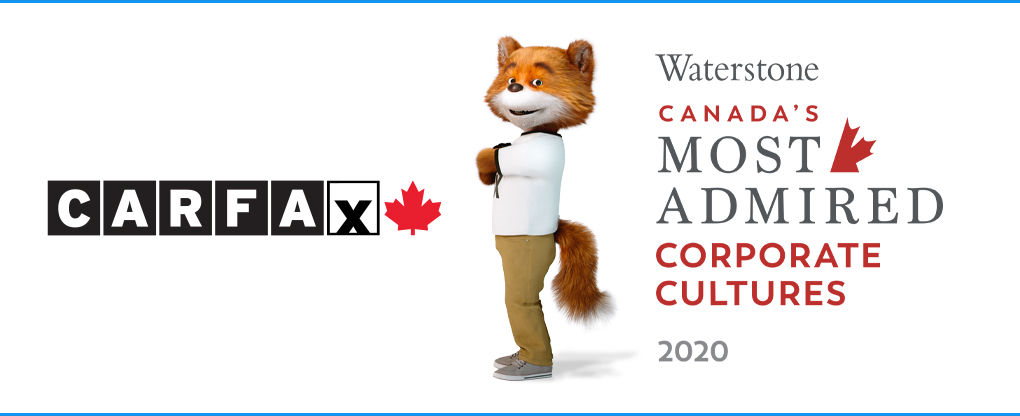 The panel of judges, compromised of past winners, cited CARFAX's success in part due to the people-first approach the company takes and the strong alignment it has across teams, processes and overall vision. "Our people continuously learn together to create our strong culture. Our aim is to develop highly collaborative teams and bring out the best in everyone," shares Mark Rousseau, President and GM of CARFAX Canada. "Our success is fuelled by these engaged people as they work together towards our common vision."
"We see the impact of our strong culture not only in our high engagement scores, but also in our business performance and customer satisfaction," says Rousseau. "Our team of enthusiastic, committed CARFAXers continue to deliver double-digit growth year after year."
"At Waterstone we believe corporate culture drives performance and that it's an organization's greatest asset," said Marty Parker, President and Chief Executive Officer of Waterstone Human Capital and Chair of Canada's Most Admired™ Corporate Cultures Awards. "This year's winning organizations have all demonstrated an outstanding commitment to corporate culture and to leveraging their culture as a competitive advantage."
"CARFAX breeds such a fun, respectful and employee-focused culture that truly makes the company stand out," shares Scott Knight, a Systems Developer who has been with the company since March of 2019. "It has been one of the greatest privileges and joys of my career to help contribute to the growth of the exceptional CARFAX team in Canada."
Construction was recently completed on CARFAX's Canadian headquarters at 100 Kellogg Lane, a landmark state-of-the-art space created from the original Kellogg's cereal factory. Investment in the 48,555 square foot office was made to house the growing team. The company's plans for growth will add hundreds of new jobs over the next several years. For open positions visit:
HERE
and
HERE
.
About CARFAX Canada
CARFAX Canada, a part of S&P Global (NYSE: SPGI), is Canada's definitive source of automotive information, delivering vehicle history, appraisal and valuation. Drawing on billions of data records from thousands of sources, its products enable used vehicle buyers and sellers to make informed decisions. Formerly known as CARPROOF Corporation, CARFAX Canada is dedicated to transparency, and is trusted to provide vehicle history and valuation information to dealerships, vehicle manufacturers, consumers, major auctions, governments, insurance providers and police agencies.
For further information or to speak with a company representative, please contact:
media@carfax.ca
Media mentions
See which media outlets are talking about CARFAX Canada and our products.