What is CARFAX Canada True Value?
Find out what your car is really worth based on its unique history, plus what similar cars have sold for in your area. It all begins with the free True Value range.

Comparable sold prices
It's not how much a vehicle is listed for that matters – what matters is what it sold for. Get a value based on what vehicles are selling for in your area, and close the deal knowing you got the best price possible.
+

Your car's history
Every vehicle is unique, and its history impacts its value. Now you can get a more realistic number that considers your vehicle's history, which may include odometer readings, damage and location. You need the value of your car, not just an estimated value of a car like yours.
=

Your car's specific value
By combining the actual sold prices of comparable vehicles with the specific history of the vehicle you're considering, you receive the vehicle's True Value. Plus, you'll save time and energy combing through the listing sites to see how your car matches up – let CARFAX Canada do the homework for you!

BUYING A USED CAR
You want to know you're getting a good car at a good price. With CARFAX Canada True Value, you get a realistic value of the specific car you're considering – not just one like it. You can walk away with peace of mind knowing what's happened in a car's history and how that impacts its value.
Everything you need to know about buying a used car

SELLING A USED CAR
To get the most for your car you need to set an accurate, competitive listing price – pricing too high means buyers may scroll right by. Pricing too low means less money in your pocket. About two thirds of vehicles have no reported damage, so use that information to celebrate the value of your vehicle. Even if you do find damage – this car value calculator can help price your vehicle accordingly and show potential buyers you're honest and fair.
How to sell your used vehicle

TRADING TO A DEALER
Get a value that's based on how much comparable vehicles have sold for plus the factors (like odometer reading, damage history and location) that could make your trade offer higher or lower than average. Keep in mind that dealer offers account for the cost of getting your vehicle ready to resell, so your trade-in value may be different than the CARFAX Canada True Value. On the other hand, this is saving you the time and effort to prep and sell the car yourself.
Pros and cons to trading in vs. selling privately
How does CARFAX Canada True Value save me time?
Used car buying and selling usually involves sifting through listing sites to see how much people are asking for vehicles like yours. This used car valuation calculator does the work for you by calculating the average sold price of similar vehicles nearby and adjusting it to consider events from the vehicle's past.
CARFAX Canada True Value
Get the True Value of your used car with the tool that considers what makes it unique. Here's how it measures up against the competition: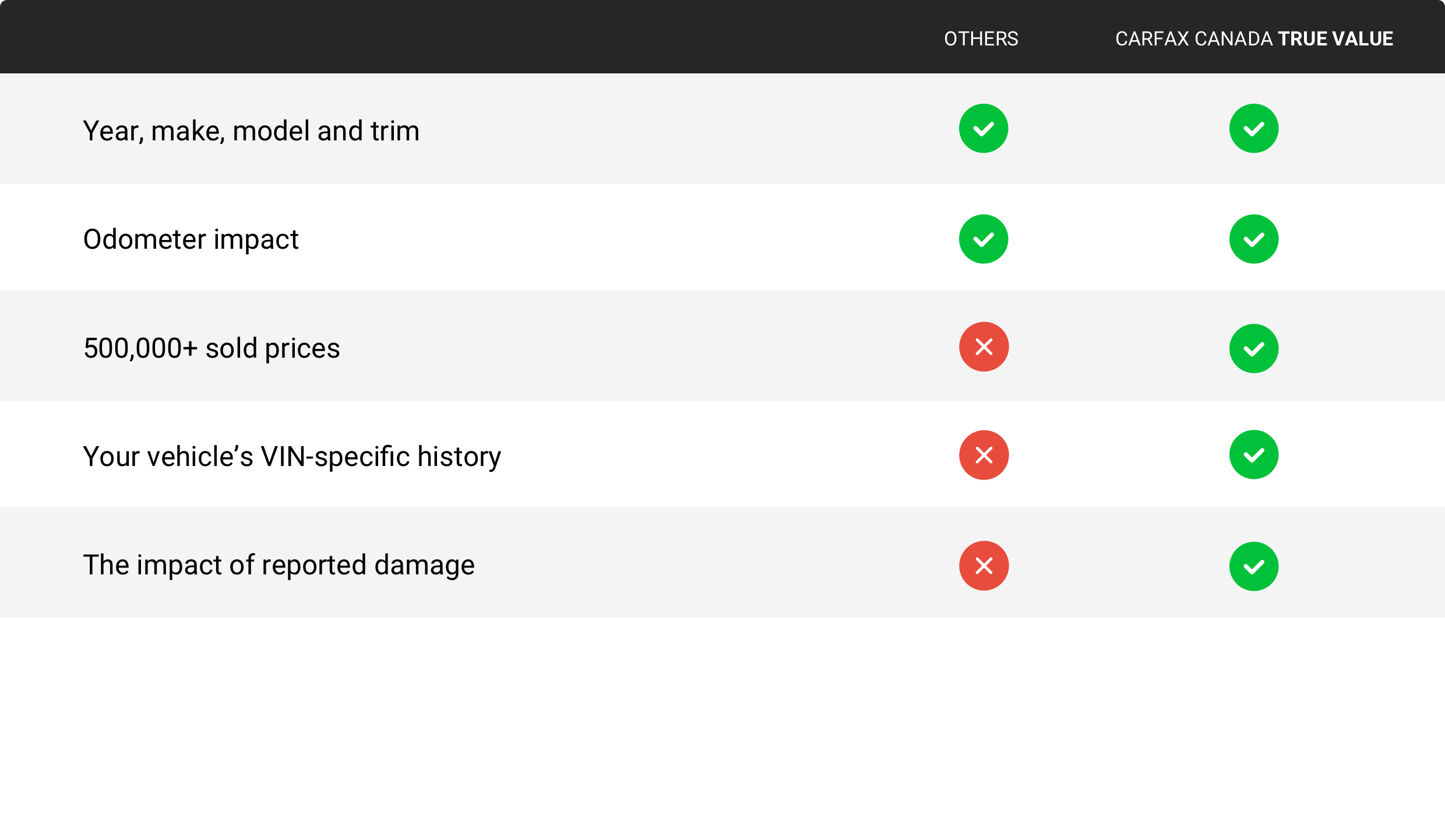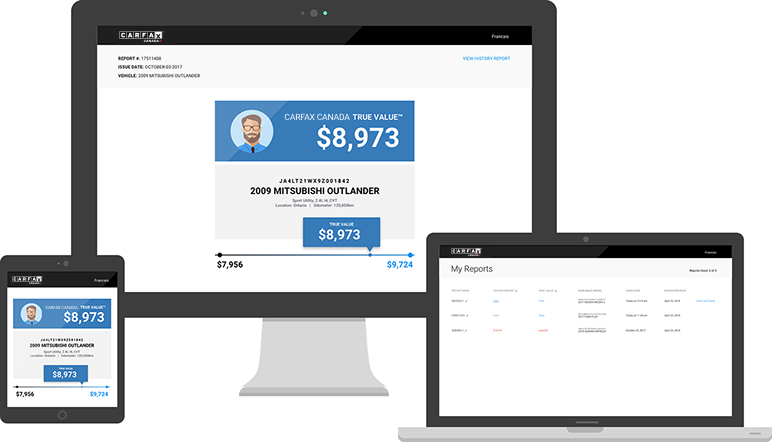 How do I get CARFAX Canada True Value?
Start with the FREE True Value range which will give you a good idea of your used car value. Then, get a precise number by ordering a vehicle history report that unlocks information about your specific vehicle, which may include damage records and odometer readings.